Justin Lindsay, Senior Vice President of Linehaul Services
Three tactics manufacturers can adopt to maximize production outputs this year.
2023 Supply Chain
Supply chain disruptions have been the topic of conversation since the onset of the pandemic in 2019. As you know, issues ranging from international supply, timely procurement, port congestion, and upstream vs. downstream supply chain have been upended in hopes of understanding the "why. A ripple effect from Covid on the national supply chain continues to make waves into 2023, impacting different but equally vital components of the chain. Questions continue to circulate in hopes of finding solutions to these fluid challenges. 
Understanding the entirety of the supply chain, a topic not particularly pertinent to your day-to-day business happenings pre-covid has become critical to facilitating solution-oriented discussions across your industry. To that end – understanding the impact of the upstream supply chain will position manufacturing professionals to make informed decisions when supply chain challenges arise. Let's first explore what the upstream and downstream supply chains look like as one functioning unit. Then we will break it down into two distinct units, serving different purposes and customers. 
Upstream and Downstream Supply Chain Unpacked
Simply put, the upstream is the pathway of raw materials to your supplier, and downstream is the pathway of the product to the customer. How might manufacturers leverage the upstream to combat waste and realize more significant gains? 
For example, the upstream supply chain for a washing machine might look something like this: 
Upstream:
Tier III: Raw materials > Tier II: Manufacturing of components > Tier I: Assembly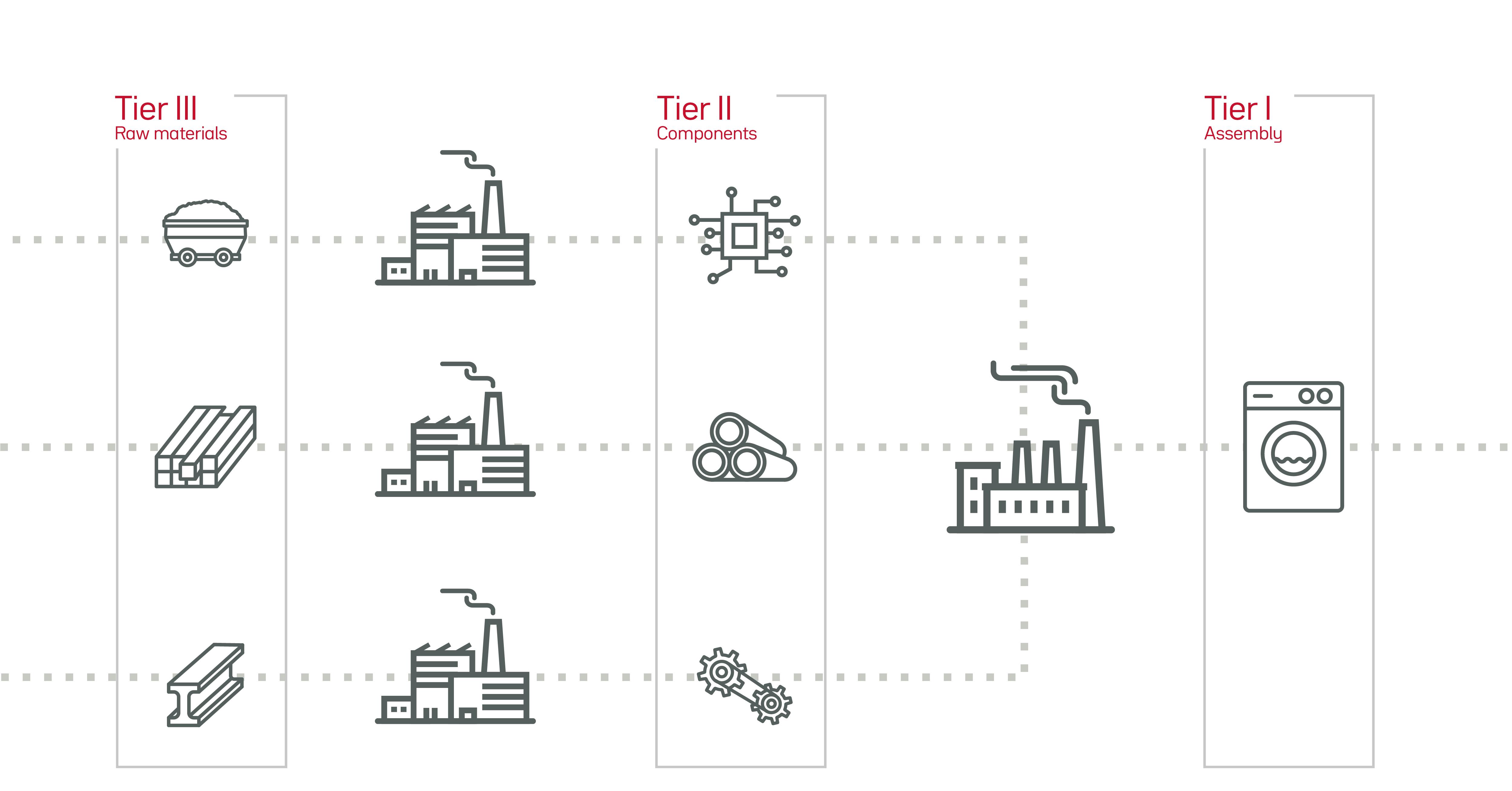 Downstream:
Distributor > Retailer > Consumer

With clarity on the links in the supply chain, you can easily understand how upstream dynamics can either help or hinder downstream success. Read on to explore three tactics manufacturers can adopt to maximize production outputs this year.
Adopt Digital Solutions to Improve Efficiencies
A frictionless pickup and delivery process from one supplier to the next is an increasingly critical goal as more data emerges on the impact of manufacturing adoption of digital solutions. The use of digital platforms to improve demand forecasting and inventory management is made accessible through cloud data technologies that gather inbound and outbound information in real-time. Oliver Wyman research indicates upstream companies are still learning supply chain best practices in these areas, adding that digital solutions can help reduce costs and improve service levels. Also noted, the use of dated technologies is a common practice in the upstream. Customers leverage sophisticated Transportation Management Systems (TMS) technologies used by expert shipping providers, like Forward, for greater transparency, efficiencies, and productivity gains. Visibility of this kind allows manufacturers to make better-informed decisions and allows for greater agility when a last-minute change of plan becomes critical. Manufacturers can increase productivity up to 10% when reducing time spent managing shipping by automating processes. Customers book over 80k shipments weekly through electronic processes to accelerate transportation workflows.
Combat Inflation Through Consistent Processes
As inflation hits the economy, businesses face a cost increase in labor, energy, raw materials, and oil – vital components of the upstream supply chain. An increase in one component impacts the entirety of the chain, leaving the rest of the chain vulnerable to added disruption. Repeatable processes, such as speed of delivery or predictability of daily schedules, may be added to a manufacturer's strategy to create reliable and scalable shipping solutions. According to McKinsey, companies with clear visibility in processes are twice as likely to avoid supply chain disruptions. A knowledgeable shipping partner who offers a consultative approach when working with customers can help fill any gaps that arise within the upstream process. 
Secure Strong Partnerships to Reduce Upstream Gaps
The upstream seems simple, but like any process, complexities can arise. For example, multiple Tier III suppliers may be necessary depending on various factors such as specialties, access, or geography. With that in mind, visibility into upstream suppliers is vital for manufacturers' quarterly and yearly projections. Research indicates supply chain inefficiencies could increase yearly operating costs by up to 25%. A deep look into the supply journey can help prevent bottlenecks, delays, and oversupply. Dependence on reliable and consistent transportation is essential, but an often-overlooked asset is a strong shipping partner who will provide customized solutions to customer freight challenges. With more than 40 years of experience, a 99.9% intact delivery rate, and over 200 locations nationwide, Forward has the resources and expertise to improve your upstream supply chain efficiencies.  Your return on investment increases exponentially through cost, time, and resource savings when a shipping partner leverages their experience and expertise to maximize efficiency for freight during pickups and deliveries. 
Filling Upstream Logistical Gaps
Let's recap the upstream supply chain journey as you consider opportunities to maximize production by filling logistical gaps between supply chain links: 
Secure raw materials.
Ship materials to the component facility. 
Transfer components to the manufacturing facility for assembly.
Deliver the finished product downstream. 
An aerial perspective of the journey reveals why you will benefit from securing strong partnerships with a reliable shipping provider for supply chain efficiencies. The integrity of pickups and deliveries within each supply link determines success. Look for a partner like Forward that provides value-based solutions through reliability, consistency, and a consultative approach to your freight challenges - connecting you to expedited LTL, Full Truckload, Intermodal drayage, Final Mile, and Brokerage Services.
Learn more about our Expedited LTL solutions now.